Overview
Pilkington MirroView™ is ideal for concealing digital displays and video screens for commercial and residential applications.
When the screen is turned 'off' Pilkington MirroView™ maintains a mirrored appearance, which conceals the screen. When the screen is turned 'on' the picture on the video screen shows through.
Pilkington MirroView™ is very durable and can be easily handled, transported and processed, including toughening and laminating. Due to the durability of the pyrolytic coating, it does not degrade over time, which gives the product a virtually unlimited shelf-life.
Pilkington MirroView™ 50/50 offers the same qualities as the original product, yet it is designed for use in applications with high ambient light.
Available in large stock sizes, which can conceal one or multiple displays.
Benefits
Pilkington MirroView™ and Pilkington MirroView™ 50/50 – digital display mirrors
Ideal for hiding video screens
Effectively hides video screens when they are not in use.
Coating quality will meet ASTM C 1376
The reflective coating meets the performance specifications as published.
Available Thickness
3.2 mm (Pilkington MirroView™ only)
6 mm
Available in LES size
Applications
Pilkington MirroView™ can be used as a traditional mirror with a small video screen concealed beneath. Ideal for bathroom applications, this allows individuals to easily view themselves in the mirror while watching television.
Pilkington MirroView™ 50/50 offers the same qualities as the original product, yet it is designed for use in applications with high ambient light.
Bars and restaurants
Bathrooms
Lobbies and salons
Retail
Hotel rooms
Digital signage
Pyrolytic Coating Advantage (information for trade stockists)
Durable and Temperable
Easily handled and transported
No edge deletion required
Virtually unlimited shelf-life
Overview
Pilkington OptiView™ and Pilkington OptiView™ Protect are our on-line coated low reflective products.
Pilkington OptiView™ is a monolithic glass with a low reflective coating on one surface, which reduces visible light reflectance and allows more visible light to pass through when compared to clear float glass with 8% light reflectance as standard.
Pilkington OptiView™ Protect is a laminated glass with low reflective coatings on surfaces #1 and #4 (both outer surfaces of the laminated glass), which reduces interior and exterior visible light reflectance to around 2%. As a consequence, views from both inside and out are clear, unobscured and virtually reflection-free. Pilkington OptiView™ Protect offers all the traditional benefits of laminated glass, such as improved safety, enhanced security, durability and acoustic properties. Furthermore, it provides protection from UV radiation (UVA and UVB) by blocking over 99% of UV transmittance, helping to reduce fading of the contents and interiors of a building.
Benefits
Exterior and interior light reflection reduced to around 2%
Light transmission greater than 90%
Neutral colour
UV transmittance reduced by over 99%
Superior safety, security and acoustic properties
Highly durable, on-line pyrolytic coating which achieves Class A to EN 1096-2
Performance to Class 1(B)1 EN 12600 and EN ISO 12543-2 respectively
Achieves ASTM C 1376 standard specification
Overview
The use of glass in architecture and design is becoming more and more prevalent, and Pilkington Optiwhite™ is at the very forefront of making it possible.
The reason for this is the sheer variety of benefits which Pilkington Optiwhite™ can offer, making it an excellent choice for a wide range of applications. Pilkington Optiwhite™ is a low-iron extra clear float glass with very high light transmission. It is practically colourless, and the green cast inherent to other glasses is not present. It is therefore ideal for use where glass edges are visible or where a neutral colour is desired. As its light transmission is higher than clear float glass, it is perfect for applications where transparency and purity of colour are desired.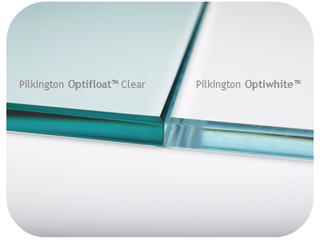 Low-iron glass is made using carefully selected raw materials with a naturally low iron content. The melting process is tightly controlled to ensure that the product properties remain consistent, making Pilkington Optiwhite™ the leading low-iron glass on the market.
Available in thicknesses between 2 mm and 19 mm, the widest range on the market, Pilkington Optiwhite™ provides increased design flexibility. When combined with other Pilkington products, it can offer additional benefits such as thermal insulation or self-cleaning. We have been producing the Pilkington Optiwhite™ Range for over twenty-five years with high consistency and quality, making this low-iron, extra clear glass highly valued by our customers whether as exterior or interior glazing, furniture or a wide range of other applications.
Benefits
High light transmission for outstanding visual clarity when an unrestricted view is required
Purity of colour with minimum colour cast when viewing through the glass, ensuring a truer representation of the designer's vision
High solar heat transmittance providing passive solar gain to allow more heat through, which can save costs on energy bills during the winter
Flexibility of application
Can be toughened or laminated for safety and security
Can be combined with other products from the Pilkington Range to provide
additional benefits